YLM – NC-220 – NC tube pipe bender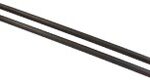 Description
The machine adopting solenoid valve and integrated circuit to control separately, which can be extend the life of the hydraulic parts.
The computer system can automatically detect shortly malfunctioning point to allow operator to solve problems.
We can supply wide range of bending machines capable of bending tube O.D. up to 203 mm (8" diameter). Tube wall thickness up to 10 m/m.
NC tube bender, NC Hydraulic Tube Bender Machine
CAPACITY CHART
The most comprehensive range of machines and applicable industries