YLM – NC-44 – NC tube pipe bender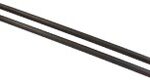 Description
Features:
One axis numerical controlled of bending-axis by encoder / hydraulic valves
Bending angle controlled by micro encoder, provides ± 0.1 tolerance
Mitsubishi PLC ( Programmable Logic Control ) system
Provides 200 programs memory, each program with 20 angles (bends)
Provides anticipated two steps mandrel retraction
Provides pressure die booster
Provides pressure die micro adjustment of backward to protect the ball mandrel.
Provides pressure die repetition
Bending movement time can be programmable to meet different demands.
6" display touch screen to operate the machine easily
Emergency stop of two safety plates with bending arm for working safety
Bending tooling & Accessories:
Bending die
Clamping die
Pressure die / guide die
Mandrel (bullet shape)
6 pieces of stoppers for tube length control
A working table for tube rotation fixtures (standard size)
Wiper die rack
Ball mandrel / multiple-direction ball mandrel (optional)
Wiper die (optional)
Split bending die (optional)
The machine adopting solenoid valve and integrated circuit to control separately, which can be extend the life of the hydraulic parts.
The computer system can automatically detect shortly malfunctioning point to allow operator to solve problems.
We can supply wide range of bending machines capable of bending tube O.D. up to 203 mm (8" diameter). Tube wall thickness up to 10 m/m.
NC tube bender, NC Hydraulic Tube Bender Machine
The machine with solenoid valve and integrated circuit to control individual bending motion separately, which also extend the lifetime of the hydraulic parts.
Three steps hydraulic oil flow for better coding and precipitation to prevent oil deterioration.
Large model bending machine is equipped with manual hydraulic adjusting valve to control the speed of bending motion.
Bending motion is controlled by low speed positioning device to obtain the accuracy of bending angles.
Various angles can be programmed to work multiple bending sequence.
Eliminating tube material feeding / loading time.
Both manual and automatic operation are available and all machines are equipped with emergency stop device.
The main shaft is specially heat treated.
All parts are tested and assembled with strict quality control to meet the specification of ISO 9001 and CE standard.
CAPACITY CHART
The most comprehensive range of machines and applicable industries
SPECIFICATION
| | |
| --- | --- |
| Machine Name | NC 44TSQ |
| Max. O.D. Wall (mm) | 45*2.5 |
| Range Of CLR (°) | 190 |
| Range Of Bending (°) | 10~190 |
| Operating Height (mm) | 900 |
| Horse Pwer (hp) | 5,00 |
| Lenght (mm) | 2450 |
| Widht (mm) | 775 |
| Height (mm) | 900 |
| Weight (kgs) | 1250 |
| Range Of Bending Speed (mm/sn) | 90 3~4 /sn |