YLM – NC-100 – NC tube pipe bender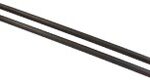 Description
Features:
One axis numerical controlled of bending-axis by encoder / hydraulic valves
Bending angle controlled by micro encoder, provides ± 0.1 tolerance
Mitsubishi PLC ( Programmable Logic Control ) system
Provides 200 programs memory, each program with 20 angles (bends)
Provides anticipated two steps mandrel retraction
Provides pressure die booster
Provides pressure die micro adjustment of backward to protect the ball mandrel.
Provides pressure die repetition
Bending movement time can be programmable to meet different demands.
6" display touch screen to operate the machine easily
Emergency stop of two safety plates with bending arm for working safety
Bending Tooling & Accessories:
Bending die
Clamping die
Pressure die / guide die
Mandrel (bullet shape)
6 pieces of stoppers for tube length control
A working table for tube rotation fixtures (standard size)
Wiper die rack
Ball mandrel / multiple-direction ball mandrel (optional)
Wiper die (optional)
Split bending die (optional)
NC tube bender, NC Hydraulic Tube Bender Machine
Based on the tube diameter, wall thickness and bending radius, machine operator may select to bending application with or without mandrel.
The bending-die spindle is solid one, will easy have tooling changing, provides the minimum bending radius 1-1.5 DR.
We can supply wide range of bending machines capable of bending tube O.D. up to 203 mm (8″ diameter).
Tube wall thickness up to 10 m/m.
Simple to work and user friendly functions allow non-technician and new operator to joint production force rapidly.
CAPACITY CHART
The most comprehensive range of machines and applicable industries
SPECIFICATION
| | |
| --- | --- |
| Machine Name | NC 100TSQ |
| Max. O.D. Wall (mm) | 100*6 |
| Range of CLR (°) | 40~450 |
| Range of Bending (°) | 0~190 |
| Mandrel Length (mm) | 3500 |
| Operating Height (mm) | 1160 |
| Horse Power (hp) | 25,00 |
| Length (mm) | 4800 |
| Width (mm) | 1600 |
| Height (mm) | 1380 |
| Weight (kgs) | 5000 |
| Range of Bending Speed (mm/sec) | 90 10~12 /sec |
| Angle (°) | 20 |