HORNET LTX CNC PLASMA CUTTER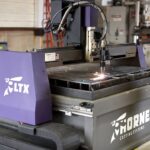 Description
Reliable. Precise. Economical. Profitable.
The all-new Hornet LTX brings unmatched performance, heavy-duty steel construction and an economical footprint to fabricators across all industries. High-quality motion inputs and zoned downdraft or adjustable level water table features come standard to get you up-and-running in a matter of hours! Increase your shop's capabilities and boost your bottom line fast. Check out the Hornet LTX today!
Hornet LTX Features:
EXCEPTIONAL MOTION CONTROL: Increased quality and part production, less waste, and more uptime from high-performance components.
DURABLE STEEL CONSTRUCTION: Strong, long-lasting, heavy-duty steel construction means years of unmatched productivity.
HYPERTHERM TECHNOLOGY: Fully-integrated CNC Control Software is intuitive and operator-friendly for less training, more uptime and increased operating efficiency.
Ships Ready To Install
Economical footprint
High-definition cutting
XPR capable
TECH SPECS
HORNET LTX™ 5 ft x 10 ft (1.5 m x 3 m) Dual-Side Drive 
Dimensions
Overall – 8.33 ft x 13.75 ft (2.54 m x 4.19 m)  (Excluding Remote Pedestal Station)
Overall Machine Weight – 7,500 lbs. (3,401 kg)
Cutting Envelope – 5 ft x 10 ft (1.52 m x 3.04 m)
Maximum table Load Weight – 3,500 lbs. (1,587 kg)
Table Slat Height – 32 in (812 mm)
Clearance Under Gantry Beam – 5 in (127 mm)
Heavy Duty Unitized Machined Steel Gantry and Rail System
Full Heat Shield Under Machine Beam
30 mm (1.18 in) Linear Guides on Cross Axis Gantry Bridge
30 mm (1.18 in) Linear Guides on both Rail Axes
Four Axis Drive System
Requires 200-240VAC 1 PH 50/60 Hz Power to Cutting Machine
Digital AC Servo Motors & Drive Amplifiers
1,200 IPM (30,480 mmpm) Rapid Traverse Speed
600 Watt (0.8 HP) Digital AC Servo Motors & Drive Amplifiers
EDGE® Connect CNC controller with Phoenix motion control software
EtherCAT Communication Interface
Moving Cables on Main and Cross Axes are Inside Flexible Cable Carriers
Over-Travel Limits and Homing Switches
One-Button Machine Squaring
Low Backlash Planetary Gear Heads
3/4 in (19mm) Wide Gear Rack
2.5 in (63.5 mm) Diameter Spur Pinion Gears
Misc.
Max Transverse Speed: 1200 IPM
Cutting Table Options: Zoned downdraft air or adjustable level water table.
Recommended Plasma Systems: Powermax Series, MAXPRO200, XPR170, XPR170
HyperthermCAM nesting software and productivity modules