YLM – Right & Left Tube Bender – CNC16-RLDAE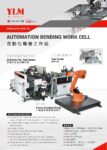 Description
Fully electric CNC L&R tube bender is in both left-hand & right-hand bending function.
A very practical model to meet various bending demands, suitable for symmetrical tube such as furniture production, hydraulic-oil tubing lines, and HVAC tubing & fluid system of automobiles.
All electric L&R smart turn tube bender, Right and Left Fully Electric CNC Tube Bender
The clamping die and pressure die are an integrated structure, allowing for fast changing bending direction.