If you need a team that can provide you with an excellent mandrel bender to ensure your pipes get the shape you need, you have come to the right place. We offer an extensive range of services to all our clients so they can rest assured whatever their needs require.
What Sets Us Apart from Our Competitors When You Need a Hydraulic Pipe Bender?
When you need excellence in machining, we offer everything you need and a whole host of benefits that go with it.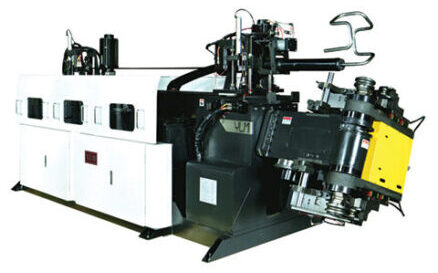 Here are some of the benefits we provide that we believe separates us from all our competitors:
We bring more than 50 years of experience to the table, which means you get services from industry veterans. Whether you need help with tube bending, tool making, or more, we ensure you get it from qualified, knowledgeable professionals every time. Your business will always be as important to us as it is to you, which means we go above and beyond to provide excellence every time we get to work.
We offer an excellent range of services whenever you need help with tube manipulation or cutting. Helping our clients get what they need when they need it means their businesses do have much less downtime. We provide you with the opportunity to maintain optimal levels of business operation.
We can work with all metals, including stainless steel, aluminium, titanium, nickel, copper, bronze, and brass. This flexibility ensures our services remain accessible to every business that requires our help with tube cutting or manipulation.
Ensuring you get your tube cutting and manipulation done by a business that understands the importance of doing it right the first time, every time, means you get excellent results year-round. Whether you need access to a team with exceptional experience, a team that can provide you with all the services you need, or a team that can always work with your metal, we deliver.
Additional Services We Can Provide You With Should You Need Hydraulic Tube Bending
When you need tube cutting or manipulation services, you should get it from a team that can provide you with that and much more. Here are a few examples of additional services we can provide to you on top of tube manipulation and cutting:
We buy and sell second-hand machinery. You might want to buy a tube bending machine from us, or you might have a tube bender for sale yourself. Either way, we can assist you. All you will have to do is give us a call so we can talk about the specifics and ensure you get a fair trade every time.
If you need any form of servicing for your bending, forming, or machine tools, we can help you. We want to provide your machines with longer lifespans so you can get more business done and save money in the long run. Let our professionals inspect your machines and make sure everything remains in perfect working order.
We offer an excellent range of machines for sale. We can help you with tube bending, aluminium processing, end forming and deburring, CNC wire and rebar, section rollers, CNC machines centres and lathes, cold sawing, band sawing, sheet metal machines, and even software and machine retrofitting.
About Us and Our Services for Reliable Manual Tube Bending
Established in 1964 in Melbourne, our mission has always been to provide all our customers with excellent tube manipulation and cutting machinery. We have serviced a wide range of industries including the defence, shipbuilding, furniture, caravan, construction, playground, automotive, HVAC, truck, tram, and bus industries. We pride ourselves on always delivering excellent results and on having a service that remains accessible to everyone. With an excellent history of business-to-business relationships and jobs, it is easy to see why our customers come back.
We understand that for your business to run optimally, you will always need a host of things maintained and replaced. Our business is to ensure that we meet your requirements for tube cutting and manipulation, as well as for any machinery you might need. We help to ensure your machines run the way they should, and provide additional machines quickly. Call us today and ensure that the right team handles your machining requirements.
About Delahenty Machinery
We are a prominent importer and supplier of machinery solutions for the metal forming, manipulation, and cutting industries. We offer a wide range of top quality machines from some of the top international manufacturers.
Contact us today and experience the best service in the industry.