PICOT – Type RCE – 3 Rolls Plate Bending Machine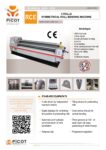 Description
The machines in the RCE series are symmetrical 3-roll hydraulic plate roll benders embodying reliability and quality.
It's three symmetrical rollers are set with wide openings between the rolls and are driven by speed- and position-synchronized independent motors.
The wide gap allows bending of a variety of multi-dimensional profiles without damage.
RCE series plate roll benders are equipped with a tilting device that integrates pre-bending into the rolling process – delivering perfect pre-bent edges.
With its dimensions and hydraulic power, it can be used with a variety of sheet metals – steel, stainless steel and aluminum, even at fine thicknesses between 2mm and 4.5mm without damaging the workpiece.
Importantly, the machine design eliminates the possibility of "lamination effect", which results in wrinkles and deformation of the sheet.
The RCE bending machine is particularly well-suited to cone rolling.
Capacity:  0,5-4 mm
Useable length: 1-2 m
Features:
> Hydraulic 3 roll bending machines
> 3 driven rolls – No lamination
> Large space between rolls
> Rolls synchronised in speed and position
> Prebending of edges without turning the sheet over – Minimum residual flat edges
> Easy cone rolling – Calibration
> No pit
> No need to turn sheet over for prebending